EVERY LITTLE THING
WITH KEN MICHAELS
---
EVERY LITTLE THING
WITH KEN MICHAELS
---
KEN MICHAELS …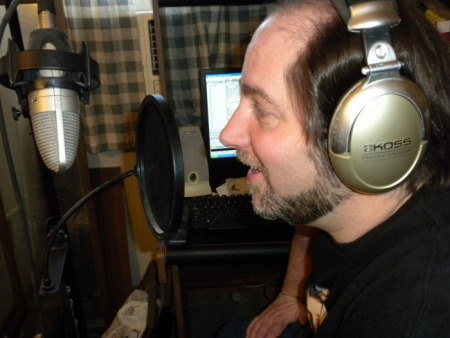 Ken Michaels' radio career began in the communications program at the New York Institute of Technology, Old Westbury, Long Island.  From 1981-1983, he hosted programs at the campus station WNYT, including Album Rock on weekdays and Top 40 on weekends.  The program director, noting the many Beatles and solo-songs that Ken played, and his tendency towards wearing Beatles T-shirts, suggested he do a Sunday night Beatles show.   In March 1982, "The All-Request Beatles Show" was launched as a one-hour show beginning at midnight on Sundays.  After a slow response, Ken successfully proposed the idea of moving the show to the 10-11pm hour.  Once that happened, the phone lines lit up like crazy, and the show was soon expanded to take up the full 3-hour shift.   In developing his show, Ken mixed the classic group recordings of the Fab Four with their respective solo music, gave exposure to the newest solo releases, invented many unique games and forms of trivia, and persuaded a local record store into giving him prizes every week.

Ken was simultaneously working as a sales clerk in a prime location of one of the nation's biggest record store chains. When Ed Ryan was hired there, Ken discovered that he, too, was a huge Beatles  fan. The duo hit it off.  Ed was invited to watch Ken do his Beatles show, and soon became co-host.  The winning combo spent a year together, and during that time built an audience that averaged over 200 requests every Sunday night!!!

After Ed left,  Ken's now solo version of "The All-Request Beatles Show" was picked up by New Jersey rock station WDHA-FM, and ran on Sunday mornings for ten consecutive years (1983-1993). As a newcomer to New Jersey radio, Ken was amazed at the station's widespread signal. While its focus was Northern New Jersey, Ken also picked up listeners in the five boroughs, western Long Island, and eastern Pennsylvania.

Experimentation led to the development of the many elements that made Ken's show unique.  Every episode included creative thematic sets that looked at every aspect of the Beatles' group and solo music, and ranged from the serious to the silly (songs with Paul on drums, songs with specific words in the title, Beatles' shortest songs, songs the Beatles wrote while together and released in their solo careers, etc.).   Sets blended group and solo music together, instead of treating the music as two separate catalogues.  Ken featured hits and deep album cuts, along with B-sides, imports, and rarities. A steady diet of news was also included in every show.  Cover versions of Beatle/solo material, side projects, tribute songs, and music from family members served as audio 'bonuses', as did original interviews with people from the Beatles' world as diverse as Ringo Starr, Carl Perkins, Yoko Ono, author Mark Lewisohn, May Pang, Billy J. Kramer, Wings drummer  Steve Holley, and Pete Best.  Ken's "The All-Request Beatles Show" was not merely a nostalgic look at the Beatles' careers, but one that addressed them as four of the greatest artists of all time, along with the promise of more great music to come from them.

After his ten years at WDHA, Ken brought his show to Long Island's oldies station WBZO-FM (B-103) during the height of the Beatles Anthology craze.  This new one-hour variation of the show was a condensed version of the earlier show. When the show came to an end, Ken kept busy as a contributing writer for the Beatle fanzines Good Day Sunshine and Daytrippin'.    With his wife JoAnn as co-author, he wrote articles and reviews, and submitted many interviews for both publications.

In September of 2003, Ken was thrilled to join the exciting new world of satellite radio when his talents were enlisted by two channels on XM Radio.  His Beatles show, newly and appropriately re-christened as "Every Little Thing," was heard on the all-eclectic music channel 'Fine Tuning'.  And what channel would better serve the most eclectic musical group of all time?  Ken's programming freedom was pushed to the max on XM, and he enjoyed including boundary-pushing sets that deftly incorporated pieces like Paul McCartney's classical works and George's Indian explorations.  The XM show eliminated contests and giveaways, and Beatle news was now missing, but every show still included at least one of Ken's unique thematic sets. (Where else could you hear a set that features ukulele or an all "bird songs" themed hour?)  And Beatle News was not far away, since Ken also hosted short features "Beatle News" and "Beatle Breaks" heard throughout the week on their 60's channel; with one covering everything currently going on in the Beatle world, and the other explaining the history behind a song, album, or aspect of the Beatles' story through interviews.  Ken was heard on XM until January 2009, when the merger of Sirius-XM brought significant programming changes and staff reductions.  He looks at his years at XM as a tremendous experience, and values the relationships he developed with fellow staffers.
In 2011, Ken hosted a radio special to celebrate the CD remaster for Paul McCartney & Wings' "Band On The Run," that aired on 260 stations. This lead to launch the nationally syndicated show "Every Little Thing," now heard on over 40 radio stations-a mixture of commercial, public, college and internet stations, including www.fab4radio.com.
Ken has also worked behind the scenes as a producer for the ABC Radio Networks/Radio Today, and his contributions could be heard on, among other shows, "Flashback," "Screen Test," and "Today In Rock History."  He is very proud of his work as both programmer and producer for the soft-Adult Contemporary show "Special of the Week" in the mid 90's. His time at the network also led to Ken producing the only syndicated radio special to coincide with the release of the "John Lennon Anthology" box set in 1998.  And while at ABC, Ken exercised his skills as an interviewer with subjects as diverse and exciting as Glen Campbell, Tommy James, Chicago, Tony Orlando & Dawn, Three Dog Night, Donny Osmond, the Zombies, and Peter & Gordon.
In September 2009, Ken created the new all-talk weekly Beatles podcast "Fab Fourum,"  and in 2012, Ken joined forces with Beatles Examiner's Steve Marinucci to create "Things We Said Today," and later expanded the show by adding two new co-hosts Al Sussman (Exec. Editor, Beatlefan) and Allan Kozinn (former NY Times writer, Classical Music; freelance writer Wall Street Journal and others) for a weekly one-hour discussion on anything Beatles-past, present and future (!,) which you can stream on www.podbean.com, YouTube, and iTunes.  Ad one more podcast show to Ken's arsenal – "Talk More Talk: A Solo-Beatles Videocast," which launched in 2018, dealing mainly with the 4 Beatles solo-careers-an in depth look at the most successful solo-careers from a previous band, so-hosted with Beatles authors Kit O'Toole ("Songs We Were Singing: Guided Tours Through The Beatles' Lesser-Known Tracks,") Ken Womack ("John Lennon 1980: The Last Days Of The Life,") Tom Hunyady (co-host of Paul McCartney Solo-podcast "2 Legs,") and Joe Mayo (host of popular You Tube channel "Mean Mr. Mayo.") The show can be heard on all platforms, including Spotify, iTunes and YouTube.

https://www.youtube.com/channel/UCq_Dkp6fkIsYwGq_vCwltyg
http://www.kenmichaelsradio.com/index.html
http://www.kenmichaelsradio.com/every-little-thing.html